Diamanter:
León &
Lightfoot /
Balanchine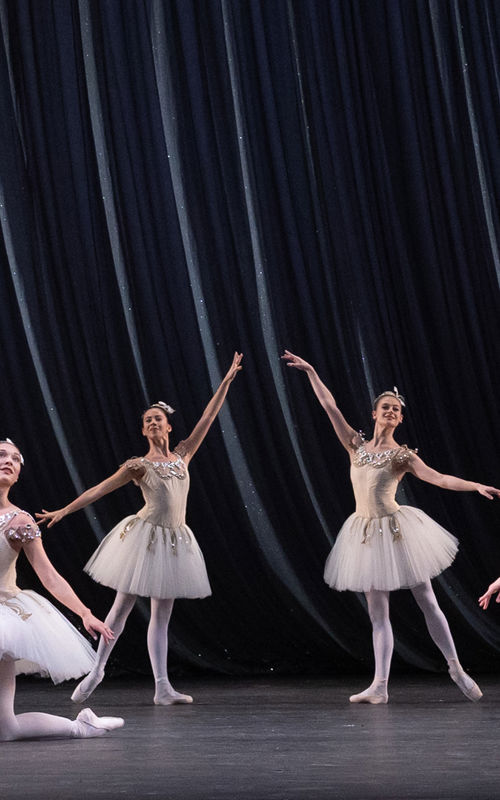 Diamonds, 2022 ROH / Photo: Andrej Uspenski
Buy
Running
3. February–​23. February
Duration
2 h 30 min / 1 Break
An evening of contrast-rich ballet
Want to be impressed by technical brilliance in three completely different but equally as riveting ballets? If so, this is the performance for you! The three choreographers behind these works have opened the eyes of many an audience member as to the possibilities of dance.
Three Norwegian premieres
The one is performed on tiptoes, with diamonds and to the music of Tchaikovsky, while the other two feature supple, modern ballet to the music of Richter and Schubert. For the very first time in Norway, you can see Diamonds by George Balanchine and Stop Motion and Schubert by the choreographer duo Sol León and Paul Lightfoot.
A flicker of Swan Lake
Is it possible to create a ballet about jewels? That is exactly what master choreographer George Balanchine has done in the three-part ballet Jewels. We are performing the final part, Diamonds, in which the expression, colours and musical selection are inspired by diamonds. As always with Balanchine, it is about how movement and music are two sides of the same coin – and are danced here to much of Tchaikovsky's Symphony No. 3 in D Major. By the time Tchaikovsky had finished writing the symphony, he had already been commissioned to create Swan Lake. Can you hear this in the music?
Audience favourites return
With humour, striking scenes and innovative steps, Sol León and Paul Lightfoot have spellbound Norwegian audiences in the past. Now they are back again! And bringing with them the duet Schubert, which revolves around a love story, and the ballet Stop Motion, in which the themes are leave-taking and change. This critically acclaimed work has been described as a visual poem, with the dancers suddenly appearing, only to disappear again after a while.
Works for large ensembles
Although these ballets differ in many ways, what they all have in common is that they are technically demanding, showcase nearly all company dancers on stage and the Norwegian National Opera Orchestra performs from the orchestra pit.
Free introduction (in Norwegian) one hour before the performance
Artistic teams and cast
Diamonds
Choreography George Balanchine
Music Pjotr Tsjajkovskij
Set design Jean- Marc Puissant
Costume design Karinska
Lighting design Jennifer Tipton
Schubert
Choreography and set design Sol León & Paul Lightfoot
Music Franz Schubert
Costume design Joke Visser, Hermien Hollander
Lighting design Tom Bevoort
Stop Motion
Choreography and set design Sol León & Paul Lightfoot
Music Max Richter
Costume design Joke Visser, Hermien Hollander
Lighting design Tom Bevoort
Video:
Concept and direction Sol León, Paul Lightfoot, Rahi Rezvani 
Filming and lighting Rahi Rezvani
Video editing Dicky Schuttel

Conductor Nicolette Fraillon
Participants Nasjonalballetten, Operaorkestret
Intermission refreshments
Order pre-show food and drinks or to enjoy during intermission. If you want to pre-order for intermission, we recommend ordering from the bar closest to your seat in the auditorium. The bars are open before the performance and during intermission. All advance orders are sorted alphabetically by the last name of the person placing the order. You are not permitted to bring any drinks into the auditorium.
Photo: Fursetgruppen