Adrian
Angelico
in the Opera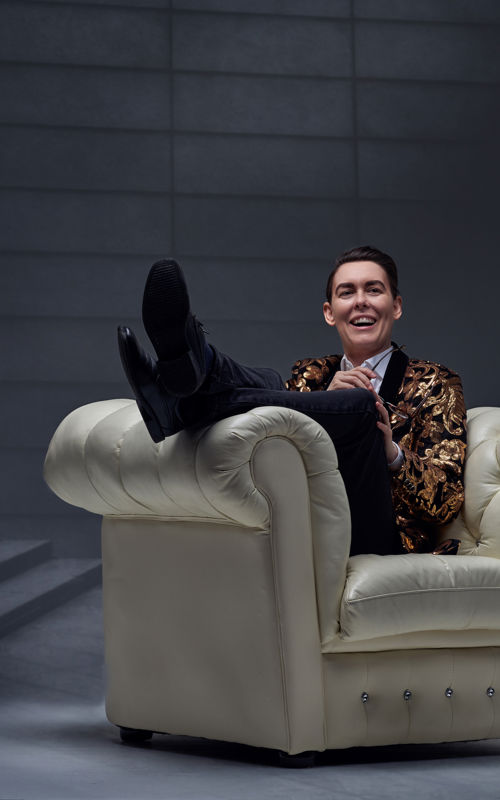 Adrian Angelico / Photo: Morten Obbink
Buy
Running
1. October, 18:00
The mezzo-soprano from Tromsø
His voice and musicality have won over audiences across Europe. Opera singer Adrian Angelico is now returning home!
Famous, queer and Sámi
Adrian Angelico has made a name for himself on international opera and concert stages. Here at home, he has distinguished himself through his reinterpretations of classical opera roles, in addition to drawing on his Sámi background by combining classical singing and joik. As a trans person, he is also a famous queer voice.
A golden mezzo-soprano voice, whose versatility is only limited by the roles available to him.
– BACHTRACK about ADRIAN ANGELICO
From Puccini to Les Mis
He is bringing to the Oslo Opera House a programme in which Vivaldi, Puccini and Handel meet Les Misérables and Rodger and Hammerstein's You'll Never Walk Alone. Not only that, but Angelico has also rewritten the text for Baroque composer Barbara Strozzi's famous Che si può fare – which has been given the Norwegian title Jeg er alene ('I am alone').
The second half of the programme features a significant shift when the spotlight is focused on the Northern Norwegian identity – with rhythms, beats and volume, as well as a full band on stage.
A tribute to the north
"For me, the Sámi joiks are part of what makes the culture so unique," says Angelico about one of the oldest forms of folk music in Europe. When he combines elements from opera and joik, the result is truly unique.
Among the joiks performed are Mari Boine and Rawdna Carita Eira's pivotal Elle, featured in the film The Kautokeino Rebellion – but you have never before heard this classical version of the joik. Angelico also joiks with his sister Pernille in an arrangement featured in the NRK programme Muitte Mu.
Apart from that, the programme is filled with musical hymns of the north in Norwegian, Sámi and Kven. Angelico is performing together with Frode Fjellheim and band. Over the years, Fjellheim has proven to be one of our foremost tradition bearers and innovators of Sámi music, and distinguished himself internationally when he composed the opening song in the Disney film Frozen.
Programme
Antonio Vivaldi Gelido ogni in vena
William Gomez Ave Maria
Giacomo Puccini O mio babbino caro
Georg Friedrich Händel Laschia ch'io pianga
Georg Friedrich Händel S'armi il fato, s'armi amore
Barbara Strozzi Jeg er alene (new text by Adrian Angelico + sami translation by Rawdna Carita Eira)
Jean Sibelius Stjernesangen
Trygve Hoff Nocturne i nord
Kristen Anderson-Lopez / Robert Lopez Gávvnat buot/All Is Found (fra Disney-filmen Frost 2)
Richard Rodgers / OscarHammerstein II You'll Never Walk Alone
Claude-Michel Schönberg / Alain Boublil I Dreamed a Dream (from Les Misérables)
Stefan Nilsson / Py Bäckman Gabriellas sång
Charlie Mason / Joey Patulka/Alexander Zuckowski/Julian Maas Rise Like a Phoenix
Pause
Frode Fjellheim Preeludijumme (Prelude)
Frode Fjellheim Kyrie from Solkvad
Frode Fjellheim Aejlies Gaaltije
Frode Fjellheim / Inga Juuso Máttaráhku
Adrian Angelico / Marit Hætta Øverli Pernille Luohti
Traditional song from Tornedalen Hyvän Illan
Mari Boine / Rawdna Carita Eira Elle
Frode Fjellheim Kyjrie fra Aejlies Gaaltije
Frode Fjellheim Elden (The Fire)
Biography Adrian Angelico
Norwegian-Sámi Adrian Angelico debuted at the Royal Opera House, Covent Garden, in June 2014 in the challenging role of Marquise de Merteuil in Luca Francesconi's modern opera Quartett, a role he repeated in 2017 in France, Italy and the U.S. Angelico is also the first trans person to perform on an American opera stage.
In 2017, Angelico was presented with the most prestigious opera award in Norway, the Tom Wilhelmsen Opera and Ballet Prize. In the spring of 2018, he debuted at the Royal Swedish Opera in Stockholm as Octavian in Richard Strauss' opera Der Rosenkavalier and the following year, sang the role of Cherubino in Mozart's The Marriage of Figaro at the Gothenburg Opera House. He has also sung the role of Hansel in the Norwegian National Opera & Ballet's production of Hansel and Gretel.
Angelico sings other music genres as well and has also held concerts that combine opera and joik together with Frode Fjellheim, Ulla Pirttijärvi-Länsman and band at such events as the Sortland Jazzfestival. He also performed a concert to commemorate Nils-Aslak Valkeapää with the Arctic Philharmonic and Sámi national theatre Beaivváš.
Other activities in which he engages include giving talks at schools and universities on themes like gender diversity, inclusion and the representation of indigenous people in media. In addition to participating in several TV productions and being active on TikTok under the name @Arctic_melody, Angelico is currently working on a series of novels for NorskeSerier/Cappelen Damm.
Biography Frode Fjellheim
Frode Fjellheim is a composer, musician, producer and music publisher with a career that has been characterised by a high activity level and multitude of musical directions since the 1980s. Fjellheim is South Sámi and was born in Mosjøen, grew up in Karasjok and currently lives in Trondheim. Throughout his career, he has effortlessly oscillated between such genres as jazz, rock, classical, world music and electronic. He has also been a prolific composer and musician for theatre stages, undertaken a wide variety of commissioned work, as well as written music for TV, documentaries, short films and art exhibitions.
In 2023, he was presented with the annual Norwegian Music Publishers Award for communicating and revitalising Sámi cultural heritage through his own work as a composer and in close collaboration with Sámi performers.
"In 2013, the entire world was introduced to the Sámi music tradition in Disney's Frozen cinematic universe. Fjellheim contributed to the film with a magical soundscape. His brilliant music inspired by Sámi music and joik has resulted in increased attention to and awareness of Sámi music and culture," wrote the jury in its assessment.
Biography John Lidal
In addition to being recipient of numerous grants, scholarships and awards, he was 1st prize winner of two International Piano Competitions in London in 1999.
John Lidal created and currently serves as the Artistic Director of the LidalNorth International OperaWorkshops. It is a program that spotlights emerging international talent and guides them on their way to operatic careers. «LidalNorth» teaching colleagues are drawn from institutions such as the Lindemann Young Artist Development Program, Metropolitan Opera; Bayerische Staatsoper Opera Studio; International Opera Studio of the Staatsoper Unter den Linden, and others.
Mr. Lidal recently accepted an invitation by the renowned Vocal Rising Stars Program/New York Festival of Song (NYFOS), to coach the Scandinavian song repertory at the annual Caramoor festival, New York.
Lidal works regularly with established artists and collaborates intensely with the new generation of singers in Scandinavia, Germany and in the US, in recitals, recording and broadcasting.
Lidal is also the 2018 recipient of the Wilhelmsen Award, one of Scandinavia's most prestigious accolades within the arts, leading to important exposure on television and radio.
John Lidal maintains private coaching studios in Berlin, London, New York, Oslo and Paris.
Intermission refreshments
Order pre-show food and drinks or to enjoy during intermission. If you want to pre-order for intermission, we recommend ordering from the bar closest to your seat in the auditorium. The bars are open before the performance and during intermission. All advance orders are sorted alphabetically by the last name of the person placing the order. You are not permitted to bring any drinks into the auditorium.
Photo: Fursetgruppen