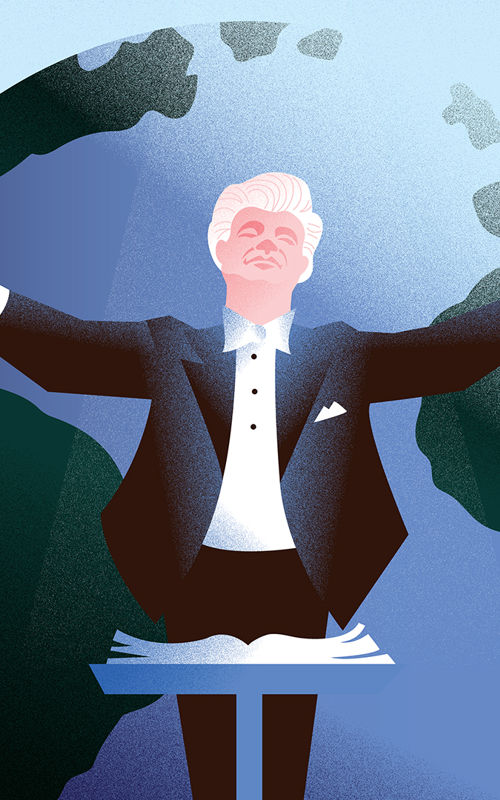 Photo: Darling Clementine
Buy
Running
24. May–​13. June
Step into the Main Stage and have your mind blown! Glitter and be gay!
Leonard Bernstein's Candide as a concert – complete with a full orchestra, opera chorus and opera soloists.
Sparkling music and dark social satire
Candide takes us on an adventurous journey through different countries and cultures – told through Leonard Bernstein's catchy music.
We find ourselves in a world full of absurdity, lively humour and harsh social criticism. The story is based on Voltaire's biting satire from 1755.
The best of all worlds
Candide is a naive young man who believes in Pangloss' teaching that 'this is the best of all possible worlds'. But when Candide is kicked out of his home and has several brutal and absurd experiences, he starts to doubt this teaching and must learn to navigate in a world full of injustice and evil. Is there any hope or possibility for change?
One of the world's most iconic musicals
Candide premiered for the first time in New York City in 1956. Since then, it has been performed on stages across the world and is considered one of the best-known musicals of the 20th century.
Bernstein referred to Candide as an operetta. This music style is more complex than we usually associate with musicals and combines classical music, opera, jazz and Broadway. It is a delight for the ears and includes some of the most famous songs in musical history, such as 'Glitter and be Gay' and 'Make our Garden Grow'.
Free introduction in Norwegian one hour before the performance
Artistic team and cast
Music

Leonard Bernstein

Original title

Candide

Libretto

Richard Wilbur, John Latouche, Dorothy Parker, Lillian Hellman, Stephen Sondheim, Leonard Bernstein

Conductor

Adam Hickox

Participants

The Opera Chorus, The Opera Orchestra
Candide

The Old Lady

Cunegonde

Dr. Pangloss/ Martin

Guvernor/ Vanderdendur/ Ratgotski

Maximilian/ Kaptein

Paquette
Subtitles
English and Norwegian
Intermission refreshments
Order pre-show food and drinks or to enjoy during intermission. If you want to pre-order for intermission, we recommend ordering from the bar closest to your seat in the auditorium. The bars are open before the performance and during intermission. All advance orders are sorted alphabetically by the last name of the person placing the order. You are not permitted to bring any drinks into the auditorium.
Photo: Fursetgruppen