CODA:
Thank You
Very Much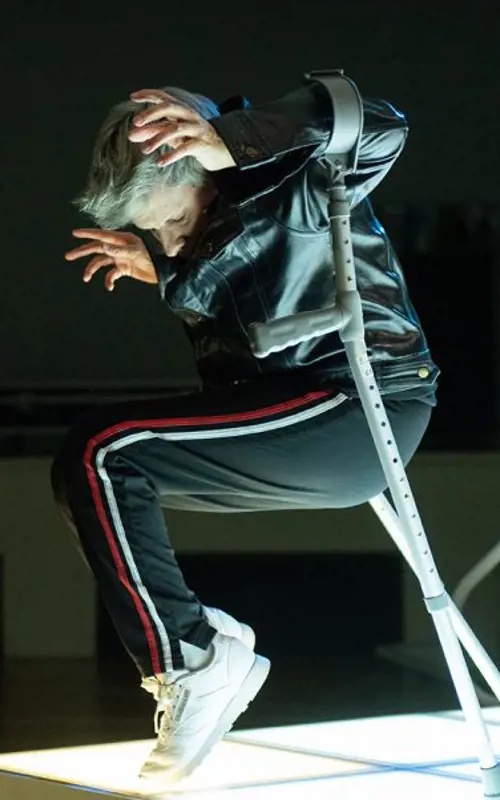 Buy
Running
20. October–​21. October
Powerful impersonation dance
Oslo's international dance festival presents a completely new work by Claire Cunningham, one of today's leading disabled dance performers.
Serious with a humorous undertone
Claire Cunningham is considered one of Great Britain's most exciting choreographers. Her intense and ambitious work has a rare quality of honesty and humorous wit. In Thank You Very Much, she personally performs on stage, together with a large international group of dancers with various types of disabilities.
This time, she uses the phenomenon 'tribute artists' – impersonators of world-famous performers – as a springboard for exploring such themes as impersonation, identity and acceptance.
What is it like to be a spectacle for the rest of the world – whether you like it or not? What does it mean to stage yourself? Where do you draw the line between an impersonation and a tribute? And when can you really be yourself?
Impersonates 'The King'
"I loved Elvis as a singer, but I began to sort of rediscover him as a choreographer and be interested in how he'd moved," explains Cunningham in an interview with the National Theatre of Scotland.
The more Cunningham immersed herself in the performer's movement patterns that are perhaps imitated most often, the more it reverberated with her.
"The way that he moved had a bit of – what I would call a kind of 'crip'* aesthetic and resonated with the way disabled bodies are perceived to move, what is perceived as uncontrolled movement, movement that is different, movement that isn't acceptable, even, or controversial," she explains.
The stage has been set for a rare dance performance.
Claire Cunningham

Hide

Show more

Claire Cunningham is considered one of Great Britain's most accomplished choreographers. Her intense and ambitious work has a rare quality of honesty and humorous wit. To date, she has created, produced and toured around the world with the works Mobile/Evolution, Menage A Trois, Guide God, Give Me a Reason to Live and The Way You Look (At Me) Tonight, which have been received with considerable national and international enthusiasm. She was first represented during the CODA Festival in 2017 and 2021, and is returning in 2023 with the new Thank You Very Much, which has been referred to as the current highlight of her career.

*'Crip': From the originally derogatory word 'crippled', but which has been appropriated and is used as a way to challenge ability normativity.
Artistic team and cast
Choreography, Direction

Claire Cunningham

Assistant Director

Dan Watson

Dramaturgy

Luke Pell

Music

Matthias Hermann

Set Design

Bethany Wells

Video

Yoann Trellu

Costume design

Shanti Freed

Lighting design

Chris Copland

Composer, Sound Design

Matthias Herrmann

Participants

Claire Cunningham, Tanja Erhart, Vicky Malin, Jo Bannon
The work was commissioned by the Manchester International Festival, National Theatre of Scotland and Perth Festival in collaboration with tanzhaus nrw and Dance Umbrella.

Produced by the Manchester International Festival and National Theatre of Scotland in partnership with Claire Cunningham Projects and Kunstenfestivaldesarts.

The project has received support from the National Lottery through Creative Scotland.
The performance during CODA Oslo International Dance Festival 2023 is presented in collaboration with the ZAMEK Culture Center of Poznan, Poland, as part of the project 'Obecność / Presence'. 'Obecność / Presence' is receiving support from Iceland, Liechtenstein and Norway Grants through EES Grants.