Eldbjørg Hemsing:
Shostakovich
Violin Concerto
No 1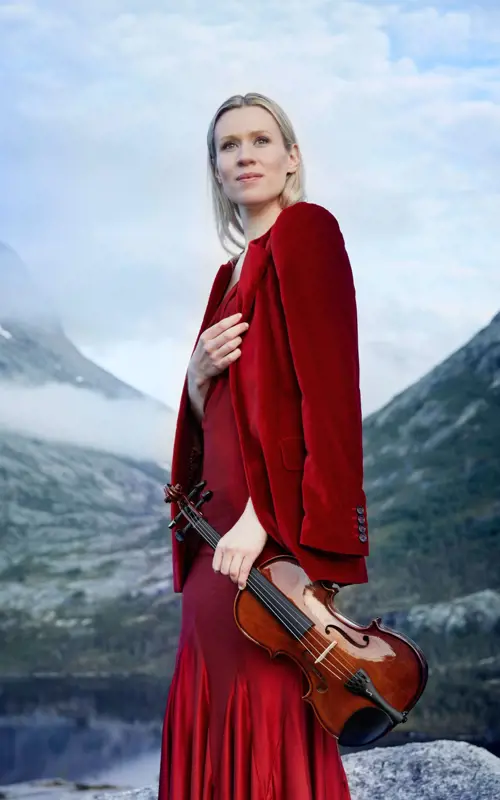 Eldbjørg Hemsing / Photo: Gregor Hohenberg
Buy
Running
17. November, 19:00
Duration
1 h 45 min / 1 Break
Phenomenal work from the 20th century
The Norwegian National Opera Orchestra joins forces with one of our greatest young violinists to perform Shostakovich's violin concerto – and to bring masterpieces by Khachaturian and Prokofiev to the Main Stage.
Still young and promising
Eldbjørg Hemsing became a familiar name to many when she debuted with the Bergen Philharmonic Orchestra at the age of 11. Today, she is considered one of the leading young violinists of her generation, boasting three award-winning albums and premiere performances in some of the world's most prestigious concert halls.
Shostakovich's grandiose Violin Concerto No. 1 awaits when Hemsing returns to the Main Stage at the Oslo Opera House. She will be playing an Antonio Stradivari 'Rivaz, Baron Gutmann' violin from 1707, on loan from the Dextra Musica Foundation. She will be accompanied by the Norwegian National Opera Orchestra, with the Russian-Ukrainian rising star Anna Rakitina – whose career is really beginning to take off – on the conductor's podium.
In addition to the violin concerto, the Norwegian National Opera Orchestra will also be performing a few of the most striking symphonic works by Khachaturian and Prokofiev. With two of the classical world's most up-and-coming women leading the way, the concert's three masterpieces are in good hands.
Radiant and sophisticated.
– BBC MUSIC MAGAZINE about ELDBJØRG HEMSING
Three masterpieces
Her kan du lese om de tre verkene til Sjostakovitsj, Khachaturian og Prokofjev
Georgian Aram Khachaturian completed his last ballet, Spartacus, in 1954. With significant historical liberties, the ballet depicts how the Roman slave Spartacus led the rebellion that resulted in the Third Servile War. Today, it is one of the composer's most praised works – especially the beautiful Adagio, familiar to many from film and TV shows, including the theme song of the TV series The Onedin Line, the James Bond film Thunderball and the family film Ice Age 2.
Dmitri Shostakovich wrote his Violin Concerto No. 1 during the years 1947–48, a time of strong censorship in the Soviet Union. The composer was condemned for failing to serve the interests of the state and people and his work remained unperformed. It was not until Stalin's death in 1953 that he dared to dust off the concerto, which was performed for the first time in 1955.
Shostakovich is often compared to his fellow composer Sergei Prokofiev: both lived in the Soviet Union around the same time and even their music has certain similarities. But whereas Shostakovich's War Symphonies project our thoughts towards terror and violence, we will hear during the final performance of the evening that Prokofiev was driven by hope.
As war raged in Europe, Prokofiev was composing his fifth symphony in the summer of 1944. Although he called the work a tribute to the "generosity, strength and spiritual purity of the free and happy individual". This optimistic symphony was interpreted by many as a symbol of victory in the war and embodied the euphoric spirit of the times during its premiere performance in 1945.
In familiar Prokofiev style, the work is packed with both lyrical melodies and sardonic humour, with the entire orchestra stepping in with tempo and force. The work reaches a climax in a fierce finale before Prokofiev concludes by almost asking: "But what comes after victory?"
Participants
Participants

Eldbjørg Hemsing, violin, the Opera Orchestra

Conductor

Anna Rakitina
Biographies
About Eldbjørg Hemsing
Eldbjørg Hemsing (born in 1990) is widely considered one of today's leading young violinists. She has been praised for her "radiant and sophisticated performances" (BBC Music Magazine) and brings this art form to more and more audiences around the world.
Here in Norway, her name has been known since her debut as a soloist with the Bergen Philharmonic Orchestra at the age of only 11.
Hemsing was born in Valdres and studied at the prestigious Barratt Due Institute of Music in Oslo, as well as under the renowned professor Boris Kuschnir in Vienna. Since then, she has attracted attention both nationally and internationally with a repertoire that spans from Beethoven to Dvořák and from Grieg to Tan Dun.
Her international career quickly gained momentum and has resulted in three award-winning albums and world premieres of various compositions in many of the world's greatest concert halls. Her last album with Edvard Grieg's violin sonatas on BIS Records won the Spellemannprisen in Norway for the Recording of the Year in 2020. Throughout her career, she has performed at various major international events and venues, including the Nobel Peace Prize award ceremony in Oslo and at the UN, as well as touring around the world with the Norwegian royal family. Also worth mentioning is her close collaboration with composer Tan Dun, together with whom she has premiered, toured and recorded several award-winning works.
Hemsing is a passionate lecturer about the power of classical music outside the traditional settings. As a musical entrepreneur, she has been involved in numerous projects, all of which stem from her desire to bring classical music to the masses. Eldbjørg is a cofounder of the Hemsing Festival in Valdres and artistic director of SPIRE, an innovative annual competition that supports and promotes young artists in the world of classical music.
About Anna Rakitina
Anna Rakitina (born in 1989) has established a reputation as one of today's most exciting and in-demand conductors. Having performed with such ensembles as the Chicago Symphony Orchestra and New York Philharmonic, she was appointed assistant director – the second woman in history – of the Boston Symphony Orchestra in 2019.
Rakitina was born in Moscow and grew up in a musical family, with a Ukrainian father and Russian mother. She began her musical education as a violinist and progressed to singing before studying conducting at the Moscow State Tchaikovsky Conservatory under Stanislav Diachenko. She continued her conducting studies in Hamburg, where she wrote her doctoral thesis on Rachmaninoff.
After completing her studies, Rakitina conducted for countless prestigious orchestras around the world, including the Vancouver Symphony Orchestra, Los Angeles Philharmonic, Orchestra del Maggio Musicale Fiorentino, Lille National Orchestra, Malmö Symphony Orchestra, Helsinki Philharmonic Orchestra, Västerås Sinfonietta, Darmstadt State Orchestra and the National Philharmonic Orchestra of Russia.
She also came in second in the Malko Competition in 2018, in addition to winning several awards from the German Conductors' Award competition in 2017 and TCO International Conducting Competition in Taipei in 2015.
Intermission refreshments
Order pre-show food and drinks or to enjoy during intermission. If you want to pre-order for intermission, we recommend ordering from the bar closest to your seat in the auditorium. The bars are open before the performance and during intermission. All advance orders are sorted alphabetically by the last name of the person placing the order. You are not permitted to bring any drinks into the auditorium.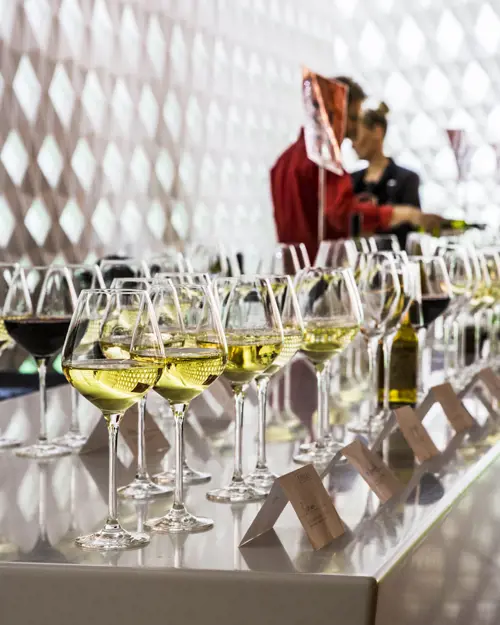 Photo: Fursetgruppen