Buy
Running
15. September–​24. September
New opera by Synne Skouen and Oda Radoor
Fram is about the most challenging adventure in life: growing old – and loving a dream.
Polar expedition
An elderly woman, the anthropologist Ameli, is on her deathbed. She fantasises about being on board the Fram on its way to the North Pole, together with Nansen and his Arctic explorers. On this journey, anything can happen. And it does.
Two worlds, one life
Ameli slowly climbs a flight of stairs, each step is a struggle, an expedition. When she finally gets up, she doesn't remember what she was going to do there. The mobile rings, and she has to go back downstairs. As she gets to the phone, it stops ringing. But she can't see who called, because it was the glasses she went up the stairs to get... Her whole life has become a struggle.
Her house creaks, it moves. Because it's not a house, it's a boat. And it is on its way to the North Pole. Ameli is going to the North Pole with Nansen! It is a miracle – and at her age!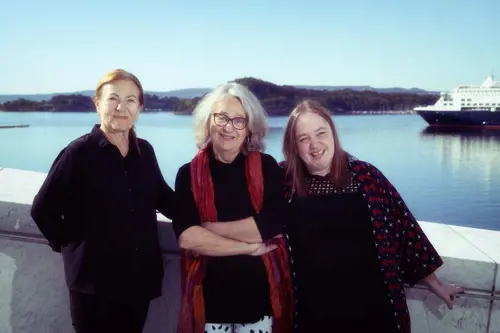 Hilde Andersen, Synne Skouen, Oda Radoor / Photo: Adam Olsson
An opera between dream and reality
Read the interview here
I had this strange dream. I was on a boat.
Ameli, in oda Radoor's libretto
Dream team is back
Composer Synne Skouen, librettist Oda Radoor and director Hilde Anderssen captivated audiences and critics alike with Ballerina in 2017. The dream team has returned with a new, tender-hearted and beautiful opera on the intimate Second Stage.
Part of the Ultima Festival
Artistic team and cast
Music

Synne Skouen

Original title

Fram

Libretto

Oda Radoor

Direction

Hilde Andersen

Set design

Bård Lie Thorbjørnsen

Costumes

Alva Brosten

Lighting desing

Torkel Skjærven

Sound design

Mats Claesson

Dramaturg

Jonas Forssell

Leader musical rehearsal

Magnus Loddgard

Participants

Male chorus, musicians from the Opera Orchestra
Ameli

Nansen

Andreas / en bjørn

Tone / en fugl / en sel / en bjørn