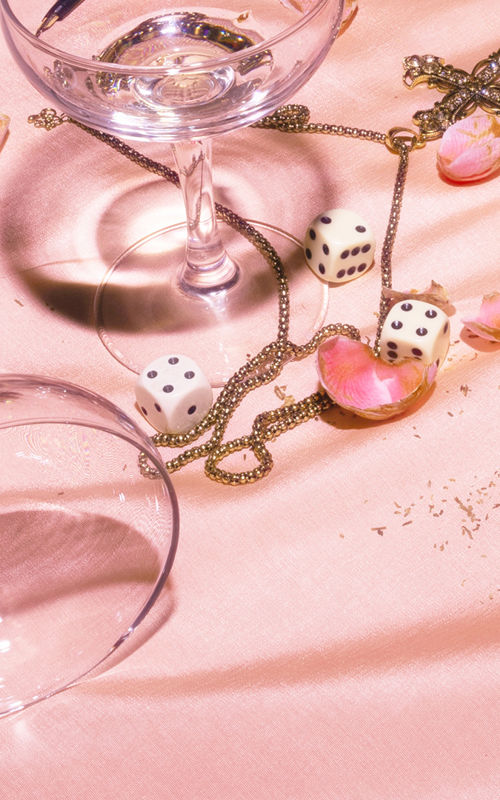 Photo: Adam Olsson
Buy
Running
23. September–​2. February
Duration
2 h 45 min / 1 Break
The world's most popular opera as a 1920s party
In a completely new and dazzling version, opera history's most famous sex worker is back in Bjørvika. For 170 years, La Traviata has celebrated the 'fallen woman' – while also showing who she really is when the party ends.
Welcome to the roaring 20s!



Violetta Valéry lives in a world where there's no such thing as too much sparkle, status and sensation. No one plays the role of working girl better than her.
But when Violetta meets the poet Alfredo, it is her first encounter with freedom and love.
Free or fallen?
We find ourselves in Paris in 1925 in the Golden Age of Art Deco. Director Rodula Gaitanou explores what is real and what is staged.
Giuseppe Verdi's light violins are almost gasping for air. In contrast, we hear the voracious party music of the bordello, where Violetta Valéry triumphantly sings 'Sempre Libera!' – always free.
La Traviata is the third in Verdi's La trilogia popolare – a hitlist that also includes Rigoletto and The Troubadour.
Based on a true story
The narrative is based on a true story and the novel The Lady of the Camellias by Alexandre Dumas. In real life, Marie Duplessis was a famous courtesan in Parisian high society. The character Alfredo, Violetta's lover, is based on Dumas' own life story.
Verdi's political opera was denounced, as many believed that it encouraged sexual promiscuity. The English doctor William Acton called the phenomenon Traviata-ism. The expression described the insight gained by the audience as they walked home from the opera – along Haymarket in London – and realised that Violetta could be found everywhere.
Her story has since been told over and over again, such as in Pretty Woman and Moulin Rouge! – as well as in the countless productions of Verdi's opera.
Free introduction one hour before the performance (in Norwegian)
Synopsis
Very short
Violetta is a rich and famous courtesan in Paris. She loves her carefree, free life. At the same time, she is seriously ill.
When Violetta meets the romantic Alfredo from the countryside, she also meets true love. She leaves Paris and her career to live with him. Alfredo's father is not happy about this. He is afraid that his son's relationship with a "fallen woman" will harm the family and persuades Violetta to break up with Alfredo.
Alfredo misunderstands what has really happened and accuses Violetta of betrayal. That is until his father admits why she really left him. But then it's already too late ...
Violetta Valéry, a known courtesan, is hosting a comeback party after a long absence due to her illness, funded by her admiring patron, Baron Douphol. Here she is introduced to Alfredo Germont – a young man from the provinces who has secretly been in love with her for a year and has been enquiring after her health every day. He is asked to make a toast in which Violetta joins him, encouraging everyone to enjoy the fleeting pleasures of life.
Alone with Violetta, Alfredo says no one in this world cares about her and loves her like he does. First, she discourages him, saying she can only offer friendship, not real love. Yet she is moved by his words and faces a great dilemma: Can she give up everything she ha s built for a new life with him? Violetta decides to allow herself to love and be loved for the first time, and gives Alfredo a chance.
Some months later. Violetta has left Paris and is living quietly in the countryside with Alfredo. When Alfredo realises that Violetta is secretly selling her own property to finance their life together, he is ashamed, not wishing to be supported by a woman and set off to Paris to raise money.
Alfredo's father, Giorgio Germont, seeks Violetta out while Alfredo is away. He demands that Violetta renounce Alfredo so as not to endanger the family's reputation and the forthcoming wedding of Alfredo's sister. Violetta at first objects, but finally agrees to his demands. Germont suggests she leaves unannounced, but she begs him to tell his daughter of her sacrifice.
Before she leaves, Violetta writes a letter telling Alfredo that she has left him and returned to her old life in Paris.
Giorgio Germont tries to persuade his broken-hearted son to return home to his family, but his attempts are in vain: Alfredo is intent on travelling to Paris to revenge himself on Violetta.
In Paris, at Violetta's friend Flora's party, the word spreads that Violetta has gone back
to her former lover Baron Douphol.
Alfredo also arrives and wins a large sum of money at the gambling tables. Following an angry confrontation, Alfredo throws his winnings at her to "pay" her for her services. Giorgio Germont witnesses the scene, and in the midst of the commotion he rebukes Alfredo, who immediately reproaches himself. The Baron challenges Alfredo to a duel.
Violetta is alone and close to death, fully aware that all hope is gone. Alfredo's father has written to Violetta, informing her that his son was not injured in the duel. Full of remorse, he has told him about Violetta's sacrifice. Alfredo wants to rejoin her as soon as possible. But the promised visit is still to come. While Violetta is bidding farewell to life, she is haunted by a vision of her impending death.
When Alfredo finally arrives, the reunion fills Violetta with a new joy and energy for life. Germont also arrives, he is full of remorse and asks her to pardon him. Violetta's last plea is to be remembered as a woman who was always guided by unconditional love, generosity and kindness. She is appeased by the presence of all her beloved and finally embraces death in a joyous way.
Artistic team and cast
Music

Giuseppe Verdi

Original title

La traviata

Libretto

Francesco Maria Piave

Conductor

Anja Bihlmaier / Constatin Trinks

Direction

Rodula Gaitanou

Set design and costumes

takis

Lighting design

D.M. Wood

Choreographer

Lars Jacob Holm

Participants

Opera Chorus, Opera Orchestra
Violetta Valéry

Alfredo Germont

Giorgio Germont

Flora

Annina

Gastone

Barone Douphol

Markisen av Obigny

Doktor Grenvil

Giuseppe, Violettas tjener

Floras tjener

Kommisjonæren
Subtitles
norsk og engelsk
Intermission refreshments
Order pre-show food and drinks or to enjoy during intermission. If you want to pre-order for intermission, we recommend ordering from the bar closest to your seat in the auditorium. The bars are open before the performance and during intermission. All advance orders are sorted alphabetically by the last name of the person placing the order. You are not permitted to bring any drinks into the auditorium.
Photo: Fursetgruppen