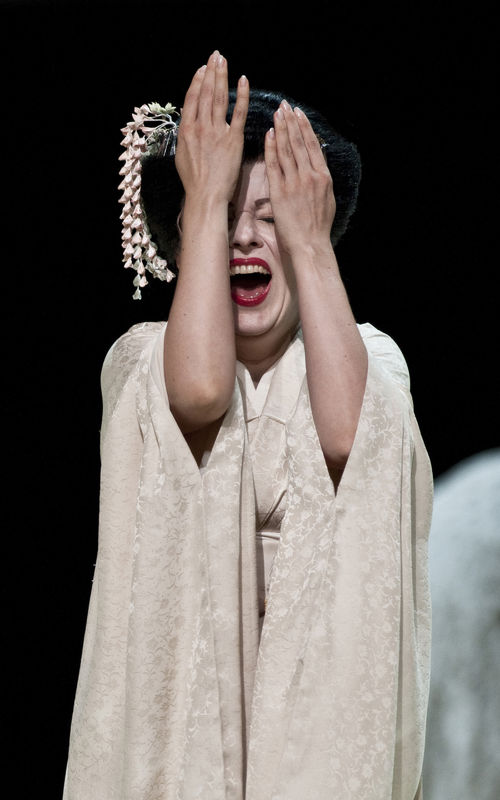 Photo: Erik Berg
Buy
Running
22. February–​16. March
Duration
3 h 15 min / 1 Break
Puccini's beautiful opera about hope and crushed dreams
A young Japanese girl meets an American officer – she with a dream of American freedom and he with a longing for the exotic East.
Hoping for a miracle
Cio-Cio-San, called Butterfly, forsakes her family, faith and culture to marry the American naval officer Pinkerton. To him, his marriage to the Japanese geisha is perhaps only for fun, while she takes it very seriously. But is it real love or more a fascination for the unknown?
'One Fine Day' – 'Un bel dì' – sings Madama Butterfly in her most well-known aria. One fine day, Pinkerton will return for her and their son. Everyone around Cio-Cio-San realises that her dream will never come true.
War and prostitution
In director Stephen Langridge's version, we witness the story through the son's eyes many years later – a young man trying to understand his own story.
The action takes place in Japan immediately after World War II at a time when American soldiers occupied the country and mass prostitution was a growing problem.
Musical empathy
Puccini was brilliant when it came to getting the audience to become immersed in the action and to perceive the characters as real flesh-and-blood people.
Marita Sølberg is debuting in the role of Cio-Cio-San, while Piero Pretti is singing the role of Pinkterton. The former music director of the Oslo Opera House, John Fiore, has returned to Bjørvika as guest conductor.
Artistic team and cast
Music

Giacomo Puccini

Libretto

Luigi Illica and Giuseppe Giacosa

Conductor

John Fiore

Direction

Stephen Langridge

Set design and costumes

Alison Chitty

Lighting design

Davey

Participants

Opera Chorus, Opera Orchestra, children from Children's Chorus
Cio-Cio-San

Pinkerton

Sharpless

Suzuki

Goro

Yamadori

Bonze

Den keiserlige kommissær

Kate Pinkerton

Yakusidè, Onkelen

Moren

Tanten

Kusinen

Sønnen