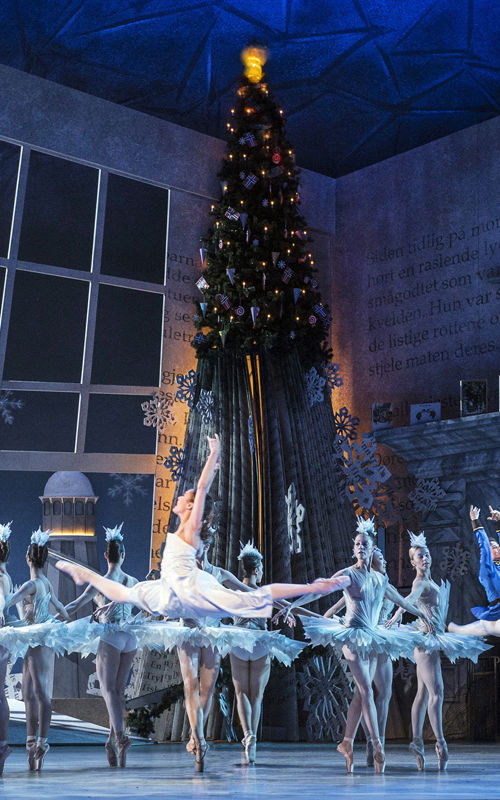 Nøtteknekkeren / Photo: Erik Berg
Magical Christmas with The Nutcracker
The Norwegian National Ballet's Christmas fairytale The Nutcracker offers dreams and magic for the entire family – in a story set in Kristiania in 1905.
The Nutcracker is more than a ballet; it is a Christmas fairytale we love to share with new generations again and again. Fifty years have passed since the Norwegian National Ballet first performed the Christmas ballet, starting what has become a strong tradition – for both audiences and the Opera House. At the same time, it has become a door opener: every time the curtain goes up for The Nutcracker, there is someone in the audience seeing the ballet for the very first time.
Magical pre-Christmas dream
We get to experience both a dream and magic. The story revolves around Clara, neither child nor adult, who feels left out of the big Christmas celebration. She falls asleep and, in her dream, the guests are transformed into rats and mice, and the nutcracker into a real prince. In an overgrown and slightly spooky universe, the prince and Clara fight against the rats and mice. During the second act, the gifts from the foreign guests also come to life and begin to dance – under the control of the mystical doll maker Drosselmeyer.
Popular fairytale
The ballet is based on E.T.A. Hoffman's story 'The Nutcracker and the Mouse King' and is danced around the world during Christmastime. Choreographer Kaloyan Boyadjiev and scenographer and costume designer Jon Bausor created an entirely new production in 2016 in which the Christmas tale about Clara is set in Kristiania in 1905 during a time when the young nation of Norway is trying to find its place in the world. "A fairytale you won't want to leave," wrote Dagbladet after the premiere and sales figures show that audiences have embraced the 'new' Nutcracker.
The Nutcracker is also a performance in which both young and mature dancers have the opportunity to shine in a myriad of different roles, from the youngest dancers of the Norwegian National Ballet School as the rats and sweets to such dream roles as the prince and both the young and adult Clara.
When Tchaikovsky's music fills the house, you know that Christmas is just around the corner.
Free introduction in Norwegian one hour before the performance
Theatrical smoke is used during this production.
Pre-order intermission refreshments at the opera: pauseservering.no
Artistic team and cast
Concept

Kaloyan Boyadjiev, Jon Bausor

Direction and choreography

Kaloyan Boyadjiev

Music

Pjotr Tsjajkovskij

Set designer

Jon Bausor

Costume designers

Jon Bausor, Bregje van Balen

Lighting designer

James Farncombe

Conductors

Per Kristian Skalstad / Cathrine Winnæs

Performers

The Norwegian National Ballet, the Opera Orchestra, the Ballet School, the Children Chorus
Clara

Nøtteknekkerprinsen

Drosselmeyer