Nicole Heaston som Claire / Photo: Erik Berg
The sound of a divided world
People around the world hear a low-pitched and unexplainable sound. When they band together, they are dismissed as crazy. Missy Mazzoli and Royce Vavrek's brand new opera is a thriller about social rejection, the abuse of power and echo chambers. Based on an original story by Jordan Tannahill and inspired by an actual phenomenon.
This highly pertinent opera is about searching for a sense of belonging, about understanding the incomprehensible – and about how charismatic leaders can easily exploit our constant longing for connection.
The sound actually heard by people around the world
Math teacher Claire hears a sound that never ends. It drives her nearly to the brink of insanity. At the very least, it drives her away from her family and to others who also hear the strange sound. But what starts out as a support group soon develops into a potent collection of cult-like rituals and fatal consequences.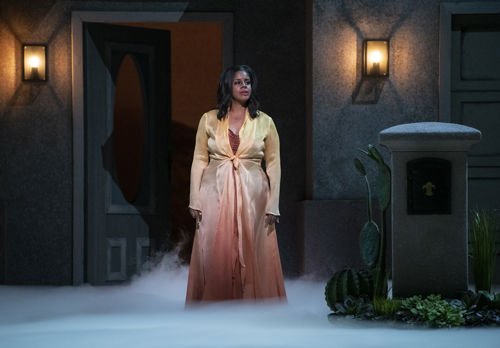 The Listeners is inspired by an actual phenomenon called 'the global hum', a low-pitched sound that people around the world claim to hear. https://www.theguardian.com/cities/2019/mar/13/what-is-the-mysterious-gl-hum-and-is-it-simply-noise-pollution
The text in the opera is based on Jordan Tannahill's book with the same name. Here he describes several explanations on the sound.
New work by award-winning duo
Grammy-nominated composer Missy Mazzoli has won several awards for her compositions for large orchestras, chamber music ensembles, film and TV series. Her music is melodic and easily accessible, featuring innovative and exciting sounds. In 2018, Mazzoli was the first woman to be commissioned by the Metropolitan Opera (together with Jeanine Tesori).
She brings with her librettist Royce Vavrek, with whom she wrote the operas Proving Up and Breaking the Waves, both of which have been hailed as "true opera of our time" (Washington Post on Proving Up) and "among the best operas from the 21st century" (Opera News on Breaking the Waves).
Read about why Mazzoli and Vavrek wanted an original idea for the opera, with the cult as a starting point.
Co-producers and co-commissioners: Opera Philadelphia and Lyric Opera of Chicago. Part of Ultima Oslo Contemporary Music Festival
Join us for a pre-talk with composer Missy Mazzoli, librettist Royce Vavrek, author Jordan Tannahill and director Lileana Blain-Cruz, right before the premiere, on Saturday the 24th of September at 5 pm, in the Foyer of the Opera House.
Free introduction (in Norwegian) one hour before the performance
Artistic team and cast
Music

Missy Mazzoli

Libretto

Royce Vavrek, based on the story by Jordan Tannahill

Conductor

Ilan Volkov

Director

Lileana Blain-Cruz

Set design

Adam Rigg

Costumes

Kaye Voyce

Lighting design

Yi Zhao

Video design

Hannah Wasileski

Choreographer

Raja Feather Kelly

Dramaturg

Cori Ellison

Participants

Opera Chorus, Children's Chorus, Opera Orchestra
Claire Devon

Howard Bard

Angela

Kyle Harris

Dillon

Ashley Devon

Paul Devon

Thom

Coyote

Hortense

Vince

Danica

Theresa Alvarez, journalist

Fru Moreno, rektor

Sina

Bram

Emily

Jessie

Mathea Kvalvåg-Andersen

Hanna Linnea Lindtvedt

Lee Ann

Nora Windfeldt

Hulda Josephine Hein-Gutierrez
Biographies artistic team
Ilan Volkov, conductor
Missy Mazzoli, composer
Royce Vavrek, librettist
Lileana Blain-Cruz, director
Adam Rigg, set designer
Kaye Voyce, costume designer
Yi Zhao, lighting designer
Raja Feather Kelly, choreographer
Hannah Wasileski, video designer
Cori Ellison, dramaturg
Synopsis
"The Listeners" follows Claire, a suburban high school teacher living in the southwestern United States. Her life spirals out of control when she begins to hear a mysterious low-frequency hum. The Hum keeps her awake at night and threatens her sanity, but she finds an ally in Kyle, a student who also hears the all-consuming noise. When Kyle discovers a group that meets regularly in hopes of understanding and eliminating the source of the Hum, Claire is optimistic that this might be a turning point in her crisis. The group is led by the charismatic Howard Bard and his second-in-command Angela, who provide a compassionate environment for the beleaguered Claire and Kyle.
As the group grows in number the meetings devolve into strange, ritualistic behavior. When former soldier Dillon is expelled from the group after suggesting that the noise is a government conspiracy, he attempts to shoot down a mobile phone tower. He is arrested and criminal attention is placed on Howard and the cult of Listeners. The group explodes when it is revealed that Howard has abused his power and manipulated the members. Claire, armed with newfound confidence, picks up the pieces in an effort to harness the power of the Hum.
The Artistic Director's Welcome
Dear Audience,
How often does an opera director get the chance to present a world premiere based on a relevant and true story written by an internationally recognised composer?
Being given this opportunity is a genuine privilege. The creative process never stops here at the Oslo Opera House. Even when presenting traditional works, we always reinterpret them to make them relevant to our time. All the same, the birth of a new work is always an incredible experience, especially with the creators on location at the opera house. Together with the artistic team, soloists and choir, Missy Mazzoli and Royce Vavkrek have spent the past few weeks further crafting this narrative, the result of which demonstrates how opera is still very much contemporary and relevant.
On a specific level, people around the world hear the sound that plagues the protagonist – including here in the Oslo area. In more general terms, people everywhere realise there is so much going on in and around us that we do not completely understand and do not know whether it originates from new technology or our own ancient nature.
The Listeners is about an auditory experience and is presented in a genre with sound as its primary expression. But as I see it, this work is primarily about our strong need to be seen and understood – also when it comes to experiences without any rational explanation. This is a fundamental necessity we share as human beings and the opera house is a place where we interact on that level.
The story introduces us to clear characters with whom we can identify and does so through music that is easy to grasp. It is performed by a clan of talented soloists, including several from our own ensemble and choir, together with other Norwegian singers, Simon Neal and Nicole Heaston.
The Listeners was commissioned by my predecessor, Annilese Miskimmon, in 2017, an inheritance I am delighted to be able to bring forth and share with all of you. I hope you will be equally as pleased with this new work as I am!
Multimedia
Missy Mazzoli about the Hum phenomena
The director about the synopsis
Ultima festival podcast
Interview with the composer, librettist and director