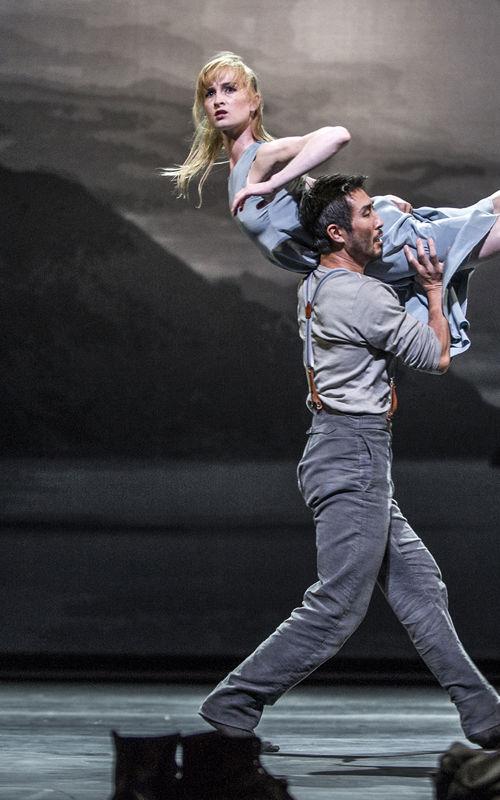 Internationally acclaimed Ibsen thriller returns home
The dance version of Ibsen's drama Gengangere has become a signature work and an export commodity for the Norwegian National Ballet. The production is now returning to the Main Stage!
It is not often that a Norwegian dance production receives as much international attention as the Norwegian National Ballet's production of Ibsen's Ghosts, which has toured to Houston, Berlin, Vienna, Shanghai and, last fall, to Hongkong.
"The dancers pull off jaw-dropping physical feats," wrote China Daily. "The Norwegian National Ballet's starkly powerful production of Ibsen's 1881 play Ghosts was suitably harrowing, distinguishing by outstanding choreography and superb performances," wrote South China Morning Post.
Dark secrets
Norwegian audiences now have a new opportunity to experience the dance drama in a venue created especially for it, the Main House of the Oslo Opera House. This is where the Norwegian National Ballet dances the dark secrets of the past in scenes that are both harrowing and tender. The result is an intense experience in which Ibsen's story directly impacts our emotional state through the language of dance – to the accompaniment Nils Petter Molvær's music, which he performs personally on stage.
Dance thriller
"A powerful experience," wrote the Norwegian newspaper VG after the original premiere of Ghosts in 2014. The magazine Dance Europe called the production "an extraordinary accomplishment" and proclaimed it the best premiere of the season.

"Ghosts is a genuine thriller in which the characters learn increasingly more about their own history. It's about how the unspoken can grow and become insurmountable. It takes considerable courage to confront a lifelong lie and sometimes it is too late," says Director Marit Moum Aune, who created the performance together with choreographer Cina Espejord.
Signature piece on film
Moum Aune was nominated for the best libretto in the renowned Prix Benois de la Danse, while Espejord received the Norwegian Dance Critics Award for the choreography. Ghosts was also made into a movie by the French film company Bel Air and has been shown at several international film festivals.
Ibsen's Ghosts is being performed in the Main Stage right before Hedda Gabler. Both were created in close collaboration with the dancers and both are signature pieces for the Norwegian National Ballet.
Free introduction in Norwegian one hour before the performance.
Theatrical smoke is used during this production.
Artistic team and cast
Creation and Direction

Marit Moum Aune

Choreograpy

Cina Espejord

Music

Nils Petter Molvær

Set designer

Even Børsum

Costume designer

Ingrid Nylander

Lighting designer

Kristin Bredal

Performers

The Norwegian National Ballet, Nils Petter Molvær, The Ballet School
Fru Alving

Pastor Manders

Engstrand

Regine

Osvald / Hr. Alving

Ung Fru Alving

Ung Pastor Manders
Multimedia
Press photos
Photo: Erik Berg
Synopsis Ibsen's Ghosts
Act 1

Mrs Helene Alving's son Osvald has returned home ten years after his father's death to attend the opening of the new orphanage
that was built in his memory. The carpenter Engstrand seeks goodwill from his daughter Regine, who is unaware that she is the illegitimate child of Mr Alving. Regine is now a maid employed by Mrs Alving. Pastor Manders arrives. He is an old friend of the family who years ago persuaded Mrs Alving to stay with her husband. She now reveals her husband's shameless philandering and adultery. Shortly after, she overhears Osvald and Regine flirting: The two siblings seem to be getting close.
Act 2
Mrs Alving wishes to send Regine away. Engstrand tells the pastor that he is not Regine's natural father, and Osvald reveals his serious illness to his mother. According to the doctor, Osvald must have been infected through his father, who had contracted the illness through debauchery. Suddenly a fire starts in the orphanage.
Act 3
Mrs Alving is not overly concerned that the orphanage has burned down. Osvald tells Regine about his illness but anyhow asks her to be his companion. Mrs Alving then reveals the truth about Mr Alving being Regine's biological father and that she and Osvald are half siblings. Regine leaves the house for good. Osvald asks his mother to take his life when the illness gets worse. He then has a serious attack.