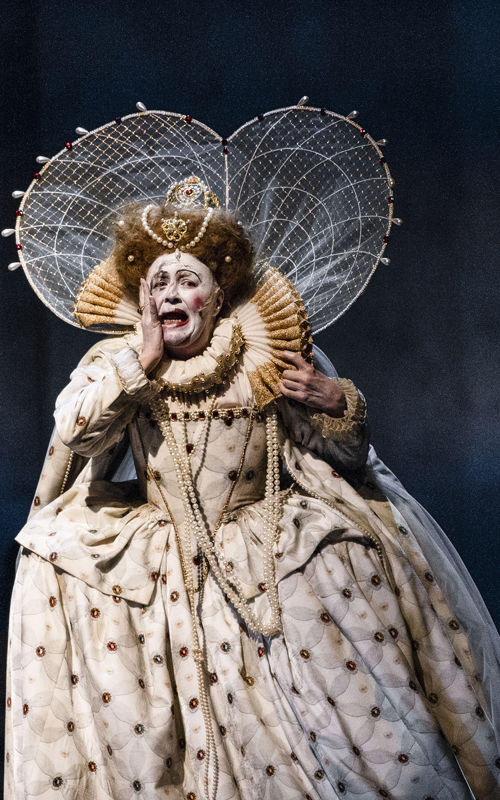 Elizabeth I fra The Hamlet Complex Redux / Photo: Erik Berg
Grandiose Hamlet with dance, theatre and film
Alan Lucien Øyen's take on Hamlet is back! One of the world's most in-demand choreographers has once again created a Shakespeare extravaganza.
From a gigantic wooden telescope to live images of the dancers' faces, this performance is both spectacular and intimate! "It's insane and more than just a little fantastic," wrote Inger Marie Kjølstadmyr in Dagsavisen following the original premiere in 2018. The Hamlet Complex Redux was created during the pandemic and could only be performed for a 200-person audience at a time. Now it's back – only bigger and with scenes that will take your breath away!
… overwhelmingly rich, beautiful – even humorous.
– Eldbjørg Sved Skottvoll, Subjekt
400-year-old drama and popular culture
As in Shakespeare's version, we meet a Hamlet intent on avenging the death of his father, committed by his own stepfather. This is where mother Gertrude and girlfriend Ophelia, not to mention Queen Elizabeth I, Mel Gibson and Freud, come in! Shakespeare's best-known play points beyond itself and has influenced art, psychology and popular culture.
Norwegian performance art creator takes Paris
Choreographer in residence of the Norwegian National Ballet Alan Lucien Øyen is a master of association who fuses dance, theatre and film. This autumn, he is debuting with a world premiere at the Paris Opera before returning to Oslo to recreate Hamlet. Øyen's Hamlet adventure began with The Hamlet Complex in 2018. He wanted to smash Shakespeare's text, put the pieces back together again and retell the story through the lens of our time.
The result is a colourful game of word association and a painstaking exploration of Hamlet as myth and person – and a fascinating piece of dance theatre.
– Maren Ørstavik, Aftenposten, 2018
So big and so close
This is Øyen's third version of the production. On stage are the Norwegian National Ballet dancers and a dream team of actors followed by film cameras. The performance space has a depth of over 40 metres, but images projected on screen create a greater sense of intimacy. The music was written by award-winning film composer Henrik Skram and the dramatic scenery is the work of Øyen's set designer friend Åsmund Færavaag.
Sparkling choreography, striking effects.
– Maren Ørstavik, Aftenposten, 2018
Performed with recorded music
Kunstnerisk team og medvirkende
Koreografi og regi

Alan Lucien Øyen

Manus

Andrew Wale, Alan Lucien Øyen

Koreografisk medskaping

Daniel Proietto

Musikk

Henrik Skram

Scenografi

Åsmund Færavaag

Kostymer

Ingrid Nylander

Lysdesign

Martin Flack

Lyddesign

Gunnar Innvær
Hamlet

Hamlet Youth

Ophelia

Ophelia..

Ghost

Gertrude - danser

Horatio

Polonius

Laertes

Claudius

Queen Elisabet 1

Claudius, Death, Medium

Gertrude

Ghost, Freud
Medvirkende fra Operaens barnekor:
Hamlet: Nathaniel Liodden
Ophelia: Nora Korshamn
Ghost: Julian Borchgrevink Næss / Mayeul Debaig (8. og 18. november)
Gertrude: Agnes Bjerck / Celia Borchgrevink Næss (11., 12. og 19. nov.)
Horatio: Gustav Nordlund
Polonius: Jakob Astrup Hjort
Laertes: Antonio de Séves
Claudius: Christian Stenberg Kløv
Barnekorleder: Edle Stray-Pedersen
Sangpedagog: Marianne Willumsen Lewis
About Alan Lucien Øyen
Alan Lucien Øyen er en av de mest spennende stemmene i norsk scenekunst. Han lager dans, teater og skriver sine egne stykker. Etter at koreograflegenden Pina Bausch døde, var han var en av de første til å lage et nytt verk for hennes kompani. Stadig oftere beskrives Øyen som en arvtaker og videreutvikler av danseteatret. For Nasjonalballetten har han laget spektakulære og spesielle verk som Timelapse og The Hamlet Complex. «Det er helt vilt og ikke så rent lite fantastisk», skrev Inger Marie Kjølstadmyr i Dagsavisen om sistnevnte.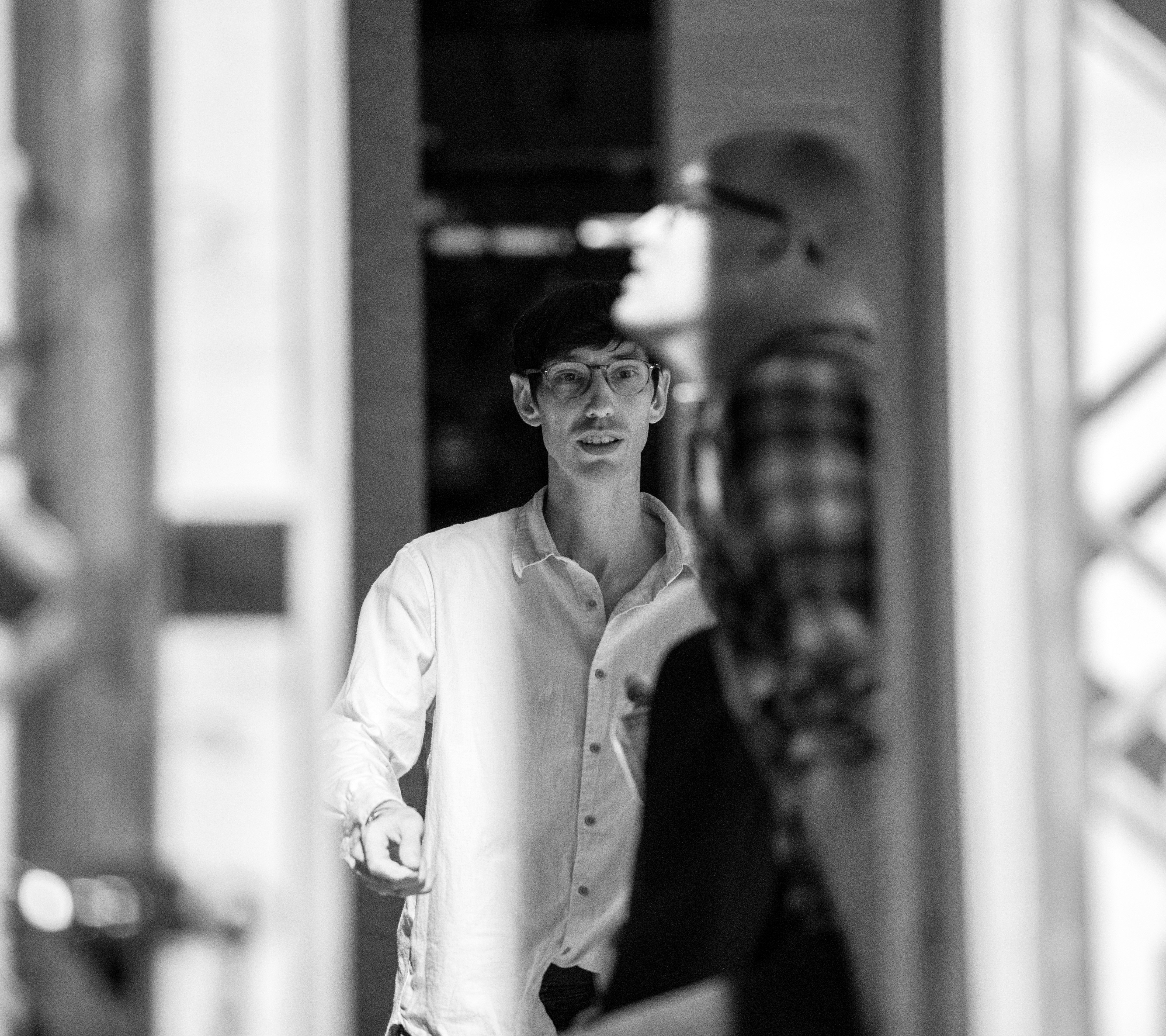 Who's who in Shakespeare's Hamlet
You'll recognise the following in The Hamlet Complex Redux:
HAMLET
Prince of Denmark, son of the late King Hamlet and nephew of the present King Claudius.
CLAUDIUS
King of Denmark, assumes the throne following the death of his brother, King Hamlet. Married to Gertrude, his brother's widow.
GERTRUDE
Hamlet's mother. Queen of Denmark and King Hamlet's widow, now married to Claudius.
THE GHOST
Ghost of the late King Hamlet (Old Hamlet).
POLONIUS
Claudius' chief counsellor and father of Ophelia and Laertes.
LAERTES
Son of Polonius, has returned to Elsinore for the marriage of Gertrude and Claudius.
OPHELIA
Daughter of Polonius and sister of Laertes. Lives with her father in Elsinore. She is in love with Hamlet.
HORATIO
Hamlet's best friend who comes to Elsinore for King Hamlet's funeral.
ROSENCRANTZ & GUILDENSTERN
Childhood friends and schoolmates of Hamlet, who are brought to Elsinore to spy on Hamlet.
In Øyen's The Hamlet Complex Redux, we meet even more characters who emerge from the personality universe of the various roles.