Crystal Pite
Light of
Passage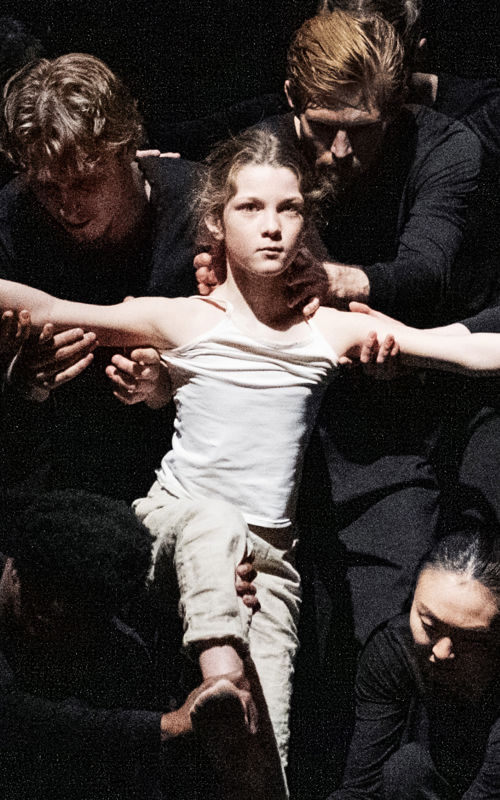 Powerful and picturesque portrayal of the passages of life
The painfully relevant refugee crisis is on the agenda when the Norwegian National Ballet performs a full-length production with Crystal Pite, one of the leading choreographers of the 21st century.
Grand, brutal ensemble work
Light of Passage is a continuation of award-winning Flight Pattern from 2017. This was choreographer Crystal Pite's response to the refugee crisis, which she describes as "the story of our time". Now the large-scale ensemble work is transformed into a full-length ballet in three acts, following all three movements of Górecki's Symphony of Sorrowful Songs.
The stage is filled by the dancers of the Norwegian National Ballet as well as children from the Ballet School, and elderly dancers.
When this ballet premiered at the Royal Opera House last autumn, an avalanche of good reviews and full houses followed.
Pite's new work is deeply felt and long overdue
– THE EVENING STANDARD
Fearless and empathetic to Górecki
Górecki's music explores themes about motherhood and the separation of families. Pite gives these themes new meaning in a work that moves from the big picture of displaced communities to focus on the emotions of individuals. The large ensemble cast moves as one body, packed together in tight rows, until one distraught couple is marked out from the crowd through a poignant pas de deux.
Read the essay here!
The ultimate passage
The newly created second act is rooted in the UN Convention on the Rights of the Child – it is a choreographic expression of our duty to protect children and the earth they are inheriting. The third act depicts the ultimate journey we will all go through; from life to death.
The performance is a co-production with The Royal Ballet in London. 
Free introduction (in norwegian) one hour before the performance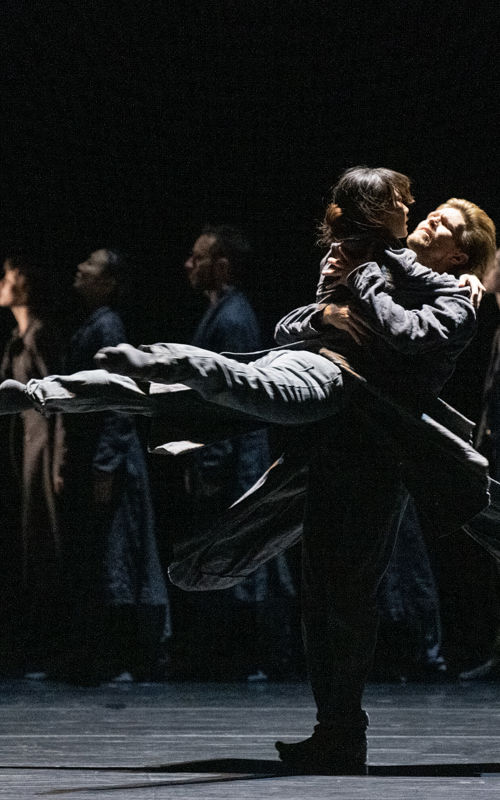 Haruka Sassa, Silas Henriksen / Photo: Erik Berg
Artistic team and Cast
Choreographer

Crystal Pite

Music

Henryk Górecki Symphony No. 3

Set Designer

Jay Gower Taylor

Costume Designer

Nancy Bryant

Lighting Designer

Tom Visser

Conductor

Zoi Tsokanou

Participants

Norwegian National Ballet, Norwegian National Opera Orchestra, Soloist: soloist: Denise Beck
Flight Pattern Duet

Passage Duet 1

Passage Duet 2

Passage Duet 3

Passage Duet 4

Passage - Hovedpar

Kristina Gjems

Øyvind Jørgensen
About Crystal Pite
The New York Times has described Crystal Pite as "one of the most talented and intriguing choreographers working today" – and she is undoubtedly among the world's most sought-after. Pite shares that pedestal with Forsythe, Kylián and Mats Ek and has created choreography for the major ballet houses around the world. As a dancer, she performed with the Ballet British Columbia and William Forsythe's Frankfurt Ballet before debuting as a choreographer in 1990. In 2002, she established her own company, Kidd Pivot, which tours around the world with genre-transcending and original works in which movement, music, text and visual design are key elements of the performance.
Multimedia
Hør Crystal Pite fortelle om Light of Passage