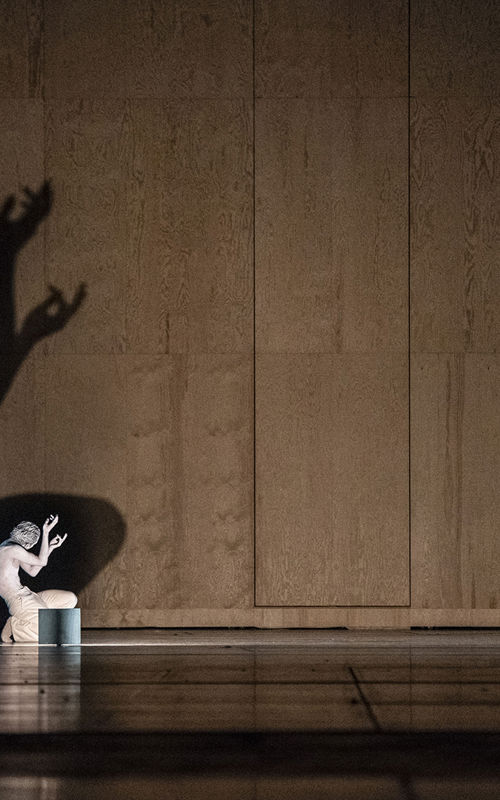 Vill Hamlet-lek vender tilbake
Things turn imaginative and spectacular when the Norwegian National Ballet's house choreographer Alan Lucien Øyen is let loose on Shakespeare's Hamlet. This autumn, we are presenting the production in a special version adapted around the coronavirus.
When The Hamlet Complex had its world premiere in 2018, it was like a spirited, contemporary Hamlet. "This is a production you have to see," said Aftenposten.
It is absolutely crazy and more than a little imaginative
– Dagsavisen
Now, after an extraordinary spring, the Norwegian National Ballet's house choreographer Alan Lucien Øyen has reimagined the piece – in a mix of dance, theatre and film.
Popular culture plus Shakespeare
The piece is abridged, but is still a place where Shakespeare's text meets popular culture.
The characters are the same as in 2018 – led by the Norwegian National Ballet's principal dancer Silas Henriksen as Hamlet and actress Kate Pendry in a central role as Queen Elisabeth the First.
Found the Oedipus complex in Hamlet
We also meet Freud, who discovers the Oedipus complex in a therapy session with Gertrude, mother of the young Hamlet.
The result is a colourful game of word association and a painstaking exploration of Hamlet as myth and person – and a fascinating piece of dance theatre
– Aftenposten
Distinctive performance art to film music
The Norwegian National Ballet's house choreographer Alan Lucien Øyen is sought after all over the world. This year he was due to have world premieres at both the Palais Garnier in Paris and Berlin's Komische Oper, but then the coronavirus pandemic struck.
Now an audience of 200 people at a time will have the chance to experience Øyen's distinctive performance art on the Main Stage.
The music was written by the award-winning film composer Henrik Skram, and the choreography was developed in collaboration with the dancers.
Sparkling choreography, striking effects
– Aftenposten, 2018


Wheelchair users must buy tickets by phone from the Oslo Opera House's customer service centre: +47 21 42 21 21.
We take infection control very seriously, and will be implementing appropriate procedures to protect the public and staff.
Kunstnerisk team og roller
Choreography and direction

Alan Lucien Øyen

Text

Andrew Wale, Alan Lucien Øyen

Choreographic co-creation

Daniel Proietto

Music

Henrik Skram

Set design

Åsmund Færavaag

Costume design

Ingrid Nylander

Lighting design

Martin Flack

Medvirkende

Nasjonalballetten, skuespillere fra winter guests, Barnekoret
Hamlet

Ophelia

Gertrude

Polonius

Ghost

Laertes

Claudius

Horatio

Unge Hamlet

Group

Koreografien er skapt i samarbeid med danserne.

Takk også til danserne ved BANFF Centre For Arts and Creativity for bidrag til tekst og bevegelse under forprogrammet «creative gesture program» i juli 2018.
Musikk Innspillingen er med Operaorkesteret under ledelse av Peter Stark.
Piano Yoko Toda
Skuespillere
Queen Elisabet I Kate Pendry
Claudius, Death, Medium Andrew Wale
Gertrude Yvonne Øyen
Ghost, Freud Anton Skrzypiciel
Barnekoret
Young Hamlet Julian Borchgrevink Næss
Young Ophelia Ella Dragland / Maria Rosenlund
Gertrude Maria Rosenlund / Ella Dragland
Polonius Ferdinand Petersen
Claudius Torbjørn Kirby Torbo
Ghost Elie Haugen
Sangpedagog Marianne Lewis
Barnekorleder Edle Stray-Pedersen
Ballettskolen
Laertes Fridtjof Beer Roland
Horatio Johann Lavrans Støvind
Ballettskolens leder Knut Breder
Forestillingen er på engelsk, oversatt og tilrettelagt for tekstmaskin av Katrine Hansteen.


Iscenesettelse Alan Lucien Øyen
Innstudering Daniel Proietto, Alan Lucien Øyen
Prøveledere Yoshifumi Inao, Daniel Proietto, Alan Lucien Øyen
Produsent Mimi Cejka
Inspisient Lars M. Kolstad, Susanne Schwarz Lindvik