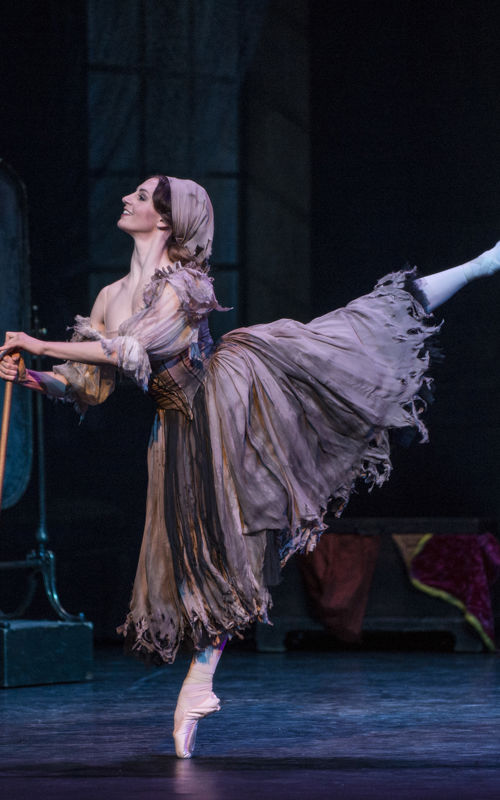 Melissa Hough / Photo: Erik Berg
Feel-good ballet for the entire family
The fairytale about a poor girl who becomes a princess is being re-enacted by the Norwegian National Ballet.
This fairytale ballet boasts impressive dance, humour and music on a grand scale. At the heart of the tale is the dreamer Cinderella, who is bullied by her stepsisters but brave enough to stand up to them, and who attends a ball and falls head over heels in love with the prince.
The Norwegian National Ballet's version is the brainchild of Ben Stevenson-
A story that gives hope
Not surprisingly, there are over 1,500 versions of the Cinderella story found around the world. After all, who doesn't dream about something unexpected and fantastic taking place someday? Ben Stevenson's choreography is danced in ballet houses in many countries. He dreamed of creating a Cinderella with whom we all can relate: "But while not many people can do a pirouette, they know love and courage," he said.
The great ballet composer Sergej Prokofiev
After achieving tremendous success with Romeo and Juliet, Prokofiev was commissioned in 1940 to compose music to Cinderella. World War II put a halt to the plans, but in 1945, the ballet finally premiered at the Bolshoi Theatre in Moscow. Prokofiev said that he had attempted to give the characters colour in the music – the delicate and dreaming Cinderella, the shy and downtrodden father, the evil stepmother, the selfish sisters and the passionate young prince – so that listeners could share their joys and sorrows.
Free introduction (in norwegian) one hour before the performance
Artistic team and cast
Choreographer

Ben Stevenson

Music

Sergej Prokofjev

Set- and Costume Designer

David Walker

Lighting Designer

John B. Read

Conductor

Alexei Baklan

Staging

Dominic Walsh

Participants

Norwegian National Ballet, Norwegian National Opera Orchestra, students from The Ballet School
Askepott

Prinsen

Stesøster 1

Stesøster 2

Den Gode Fe

Hoffnarr