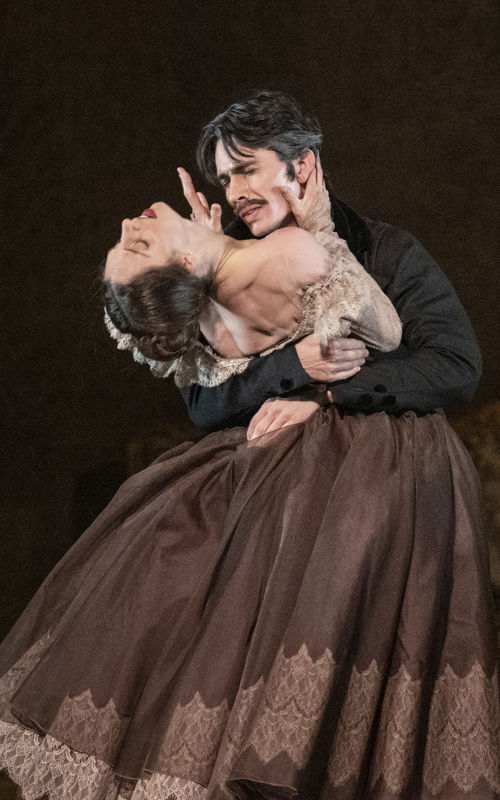 Melissa Hough og Ricardo Castellanos / Photo: Erik Berg
Classic masterpiece with a completely new look
The Norwegian National Ballet is dancing Pushkin's novel about lost love – with the new version of Onegin being performed in front of a physical audience for the first time.
«What an amazing ballet, and what amazing dancers. The Norwegian National Ballet's new version of Onegin proves that the classics are classic for a reason. It is nice to know that this one will be performed again, also after the Covid pandemic», Maren Ørstavik wrote in Aftenposten after watching the digital version of John Cranko's successful ballet last year, complete with new scenery and costumes.

The moment has now come to invite audiences to the first live performance of Onegin at the Oslo Opera House!
The one that got away
The ballet's name is Onegin, but it is Tatiana's story that we follow. She saw him and fell intensely in love, while he saw only a naive young girl. Sixteen years later, she is married – and he sees her as she really is. But by then it is too late.

Alexander Pushkin described the superficial life of St. Petersburg society in the 1820s – and one of love's greatest dilemmas: What do you do when you are married and the man of your dreams comes knocking on your door?

Onegin is a performance about a life and a love that never came to be, brought to life in duets that leave the audience breathless.
Legendary ballet with a whole new look
Choreographer Cranko plays on our emotions, while also playing on Tchaikovsky. When Tatiana and Onegin fall into each other's arms for the last time, it is narrative dance at its best.

The story and choreography are now being revived in a new setting. In our new production, costume designer Ingrid Nylander and set designer John-Kristian Alsaker take us back in time to a distinctively Russian, rich and textural scenery. On stage, contrasts unfold between Tatiana's rural hometown outside of Moscow and the gilded, extravagant palaces of the aristocracy in St. Petersburg. The production was created in the Oslo Opera House's very own workshops.
Free introduction 1 hour before the performance
Artistic team and cast
Choreographer

John Cranko, basert på Aleksandr Pusjkins roman Eugen Onegin

Staging

Reid Anderson

Licensee

Dieter Graefe

Music

Pjotr Tsjajkovskij, arrangert og orkestrert av Kurt-Heinz Stolze

Set designer

John-Kristian Alsaker

Costume Designer

Ingrid Nylander

Lighting Designer

Kristin Bredal

Video

Torbjørn Ljunggren

Conductor

Johannes Witt

Participant

Norwegian National Ballet, Norwegian National Opera Orchestra
Onegin

Tatjana

Olga

Lenskij

Grev Gremin

Fru Larina