Ekman /
Haagenrud /
Kylián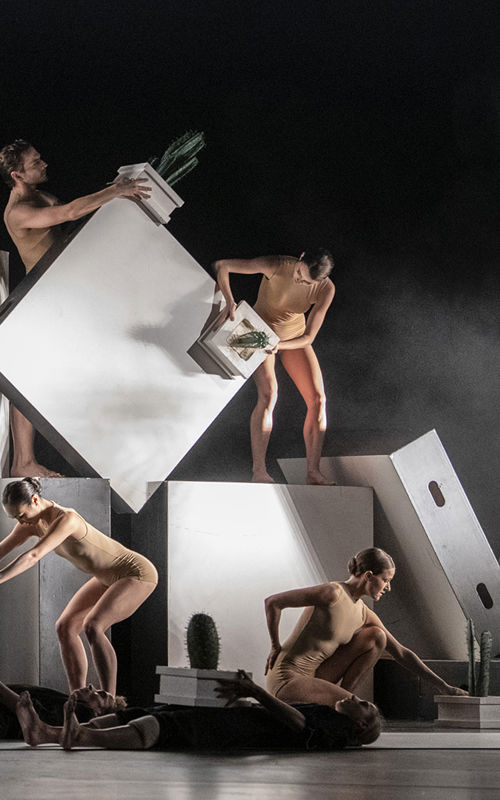 Ballett å bli glad av
Alexander Ekmans gledespredende Cacti danses sammen med enten et splitter nytt verk, The Commoners av Hege Haagenrud eller Jiří Kyliáns hypnotiske Gods and Dogs. Uansett hvilken kveld du velger, får du slående, moderne dans.
Kan ballett gjøre deg glad? Ja, i hvert fall når koreografen heter Alexander Ekman og verket er hans prisvinnende ballett Cacti. Ballettfeberen herjet da han skapte A Swan Lake for Nasjonalballetten i 2014. I Cacti – «kaktuser», om du vil – får du oppleve «slående koreografi, fiffig scenografi, en strykekvartett på scenen og selvironi så det holder» (Time Out Australia).
Hvis du lurer på om kaktuser er en del av balletten, er svaret ja. Hvis du lurer på hvilken betydning de har, er svaret tja. Som ofte med Ekman er det hauger av humor, kul dans og slående scenebilder.
Nå kan du oppleve Cacti uansett hvilken kveld du velger – enten i kombinasjon med et nyskapende verk av Hege Haagenrud eller sammen med en hypnotiserende Kylián-klassiker.
Helt vanlige mennesker
«Et lite mirakel», skrev Dance Europe da Hege Haagenrud sist skapte dans for Nasjonalballetten. Verket Picture A Vacuum var basert på spoken word-poesi.
Nå skaper hun balletten The Commoners med en scenetekst basert på intervjuer med Trump-supportere.
På scenen står seks dansere, som ved hjelp av mimiske tegn fra den klassiske ballettarven forsøker å formidle en historie av i dag.
Bedøvende vakkert foran sølvteppet
Gods and Dogs er en hypnotiserende ballett i spennet mellom uro og skjønnhet. Et enormt, dansende sølvteppe understreker den nervepirrende stemningen, bak dansere som virkelig kan sin Kylián.
«Effekten av det bevegelige teppet sammen med danserne er bedøvende. Det er estetisk vakkert, flyter som kvikksølv gjennom rommet, alltid i bevegelse», skrev VG da Nasjonalballetten danset Gods and Dogs i 2013.
Kompaniets fremførelser av mesterkoreografen Kyliáns verk griper så dypt ned i tilskuernes sjel eller kjerne at vi ikke våger puste
– AFTENPOSTEN I 2013
Jiří Kylián har fornyet balletten som kunstform, og Nasjonalballetten har over flere tiår utviklet et helt spesielt forhold til koreografen.
Kunstnerisk team og roller
Cacti
Koreografi, scenografi og kostymer Alexander Ekman
Musikk Joseph Haydn, Ludwig van Beethoven, Franz Schubert
Lysdesign og scenografi Tom Visser
Tekst Spenser Theberge
The Commoners
Koreografi Hege Haagenrud
Scenografi Åsmund Færavaag
Kostymer Bregje van Balen
Lysdesign Tobias Hagström-Ståhl
Lyddesign Erik Hedin
Manus Kate Pendry
Dramaturg Mads Sjøgård Pettersen
Gods and Dogs
Koreografi/scenografi Jiří Kylián
Musikk Jiří Kylián (konsept), Dirk Haubrich, Ludwig van Beethoven
Kostymer Joke Visser
Lysdesign Kees Tjebbes
Video Dag Johan Haugerud, Cecilie Semec
Projeksjoner Daniel Bisig, Tatsuo Unemi
Medvirkende Nasjonalballetten, musikere fra Operaorkestret (Cacti)
Cacti

Cacti Soli Par

The Commoners

Cacti Soli

Gods and Dogs