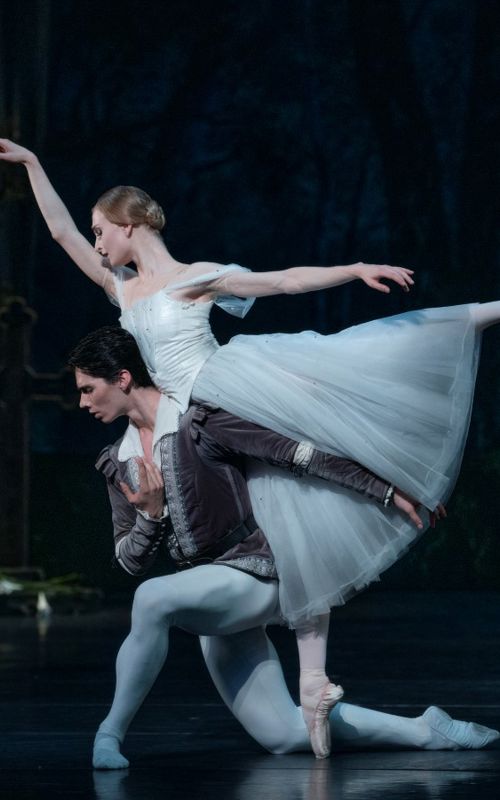 A heartbreaking, forbidden love story
With scenes so beautiful they take your breath away and love so strong it conquers death. You won't want to miss this gripping ballet with the Norwegian National Ballet!
First love, betrayal, grief and forgiveness – Giselle is a rollercoaster of a romance. "Everlasting beauty on the Main Stage," wrote Aftenposten in 2020.
Life-and-death dance
Giselle falls in love with Albrecht, who hides the fact that he is actually engaged to Bathilde. Giselle loves Albrecht so intensely that she dies of madness on discovering his betrayal. Albrecht repents and visits Giselle's grave, where he is haunted by the Wilis – vengeful ghosts of jilted brides who drive young men to dance to death. Is Giselle's love strong enough to save him?
The ultimate romantic ballet
Romantic ballet as a genre arose in the 1800s, with a rural first act, followed by a 'white' second act. During the white act, the female dancers wear only white costumes and the act usually includes supernatural elements and insanity.
Giselle is the quintessential romantic ballet. We experience not only a madness scene that requires considerable dramatic skills on the part of the ballerina, but also the supernatural Wilis in the second act.
Dream role for ballerinas
"Giselle is the dream role for a ballerina. Exposing the soul and spirit is no easy task. As the wind, she never stops moving," says former prima ballerina Cynthia Harvey, who has staged Giselle for the Norwegian National Ballet.
After the premiere in Paris in 1841, all major ballet companies have created their own version of Giselle. Harvey based hers on the original choreography by Jean Coralli and Jules Perrot to Adolphe Adam's evocative music.
Free introduction one hour before the performace
Artistic team and Cast
Choreograher

Jean Coralli, Jules Perrot 

Stager

Cynthia Harvey

Music

Adolphe Adam

Set- and Costume Designer

David Walker

Lighting Designer

James F. Ingalls

Conductor

Nathan Brock

Participants

Norwegian National Ballet, Norwegian National Opera Orchestra
Giselle

Albrecht

Hilarion

Bonde pas de deux

Myrtha

Moyna

Zulma
Synopsis
The Story of Giselle
FIRST ACT
It is the time of the grape harvest in a little village by the Rhine. Hilarion, the game keeper, comes to the house where Giselle and her mother live, with gifts for each of them. He is in love with Giselle and loses no opportunity to pay court to her.
Giselle's attention, however, is absorbed instead by Albrecht, a young nobleman. Albrecht seeks Giselle out whenever he can, but comes disguised as a simple peasant to prevent her from knowing who he really is. He does not tell her that he is betrothed to Bathilde, the Duke's daughter. Hilarion spies on Albrecht and Giselle, and finds Albrecht's cape and sword.
To celebrate the end of the grape harvest, the Duke, Bathilde and their retinue come to the village. Bathilde is delighted by the lively Giselle upon hearing about her engage-ment and presents her with her own chain as a gift. Hilarion confronts Albrecht with his cape and sword, and the truth comes out.
The shock of hearing that Albrecht and Bathilde are betrothed makes Giselle go mad. As one possessed, she relives the happy moments of her love with Albrecht through dancing them out – until she falls lifeless to the ground.
SECOND ACT
Hilarion is distraught because he believes to have caused Giselle's death and visits her grave late at night. Myrtha, Queen of the Wilis, calls her spirits forth from their graves. During the dance, Myrtha calls forth a new Wili – Giselle.
The dance is interrupted when Albrecht comes with lilies to Giselle's grave. She appears to him and they dance together. Knowing the fate which awaits him, Giselle tries to protect him by keeping him away from Myrtha. Then Hilarion is forced to dance to death. Giselle asks Myrtha to let her dance in Albrecht's place. But Albrecht would rather die than be separated from Giselle, and continues the fatal dance with her.
Dawn breaks and with it the Wilis' power vanishes. Through their love, Albrecht has been saved.