Christian Spuck:
Sleeping
Beauty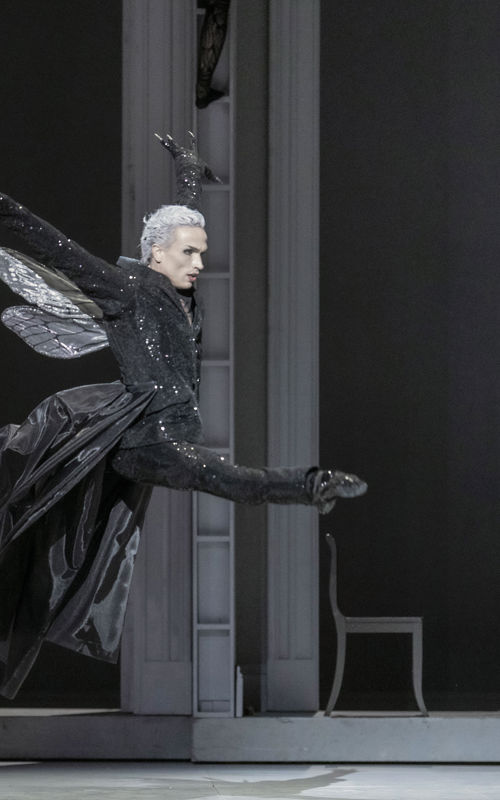 Douwe Dekkers / Photo: Erik Berg
A new classic full-length ballet
Dancing on pointe to Tchaikovsky in an enchanting and beautiful version of the fairy tale, signed by the strong storyteller Christian Spuck.
Well-known adventure with a twist
Aurora, the fairies, the royal couple and a castle are all included, but the characters have been rewritten – and the normally wicked fairy Carabosse has plenty of reason to feel despair.
Full of wit, irony, parody and deeper meaning
tanznetz
Who kisses Aurora

awake from her 100-year sleep?
We are all familiar with the story. During the christening of Princess Aurora, the uninvited Carabosse casts a horrible spell: on her 16th birthday, Aurora will prick her finger on a spinning wheel's spindle and die. Fortunately, the Lilac Fairy manages to weave her own spell, so that the princess is to sleep for 100 years, to be awakened by a prince.
Rooted in the classic tale
The super duo of Tchaikovsky and Marius Petipa created the ballet Sleeping Beauty. The story itself originates from Charles Perrault's fairytale from the 1600s. The curtain went up on the ballet in St. Petersburg in 1890 for the first time – and the rest is ballet history. To this very day, Sleeping Beauty continues to rank among the top ten most popular ballets.
A magician with dance steps
German choreographer Spuck is known as a master of creating narrative ballets and is behind such Norwegian National Ballet successes as Anna Karenina and Woyzeck. His Sleeping Beauty was performed to a full house in Zurich – and is a feast for both the eyes and the ears.
Co-production between the Zurich Ballet and Norwegian National Ballet 
Free introduction (in norwegian) one hour before the performance
Artistic team and Cast
Choreographer and Director

Christian Spuck

Music

Pjotr Tsjajkovskij

Set Designer

Rufus Didwiszus

Costume Designer

Buki Shiff

Lighting Designer

Martin Gebhardt

Dramaturg

Michael Küster

Conductur

Robertas Servenikas

Participants

Norwegian National Ballet, Norwegian National Opera Orchestra
Aurora

Prins

Carabosse

Syrinfe

Gullfe

Sølvfe

Blå fe

Grønn fe

Rød fe

Kongen

Dronningen

Catalabutte

Guvernante

Prins 1

Prins 2

Prins 3

Prins 4