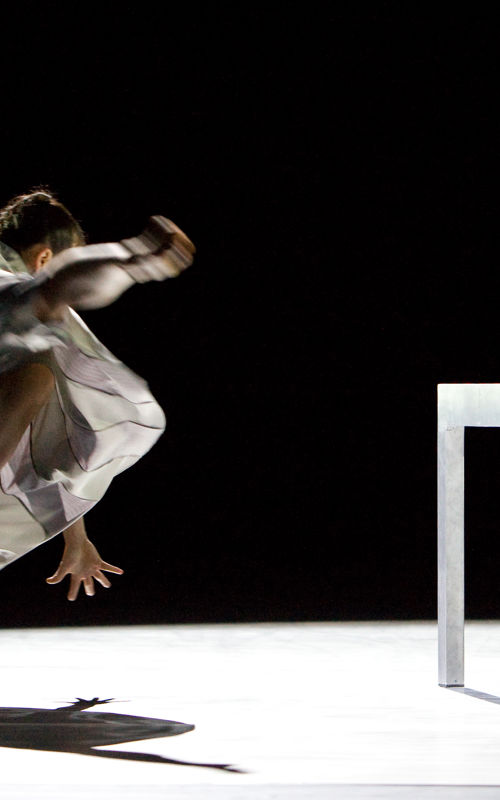 Fra Mats Eks Aluminium / Photo: Gert Weigelt
Duration
2 h 30 min / 1 Break
CANCELLED:
MATS EK - …og Brahms + Hun var svart is unfortunately cancelled due to the ongoing strike in the cultural sector. Ticket holders will be contacted for refunds. We hope to be able to present the performance next year.
...og Brahms + Hun var svart
Mats Ek har framfor noen annen satt Norden på det internasjonale dansekartet. Nå skal han arbeide med Nasjonalballetten igjen, 20 år etter forrige gang.
Svenske Mats Ek har siden 1970-tallet har skapt et helt eget dansespråk. Hans uttrykk er unikt nordisk og samtidig helt universelt, og har blitt omfavnet over hele verden.
Ek er en fortellingens mester – i superpresis og renskåren dans ladet med følelser, ofte også humor. Den klassiske balletten danner likevel utgangspunktet for Eks koreografi, og danserne må være trent i klassisk ballett.
Suksess med Tornerose
Mats Ek er berømt for å ha gjenskapt de store klassiske ballettene i moderne versjon.
Han har en uvanlig bevegelsesstil som kombinerer en rotfestet, jordnær kvalitet med fysisk humor og ballettpresisjon og elastisitet [og en] interesse for sosiale og psykologiske temaer
New York Times (2016)
Sist Ek jobbet med Nasjonalballetten, var med suksessen Tornerose i 2001, som ble gjenoppsatt i 2003.

Tidligere hadde Nasjonalballetten danset Eks Soweto om Apartheidregimets gru (1981) og Bernardas hus (1986), som begge ble kritikerroste publikumsvinnere.
Fargesprakende ballett til stor musikk
Denne gangen skal Mats Ek videreutvikle den fargesprakende balletten … og Brahms sammen med Nasjonalballettens dansere.
Den danses til Brahms' dramatiske og drivende Fiolinkonsert i D-dur, der Operaorkestrets konsertmester Guro Kleven Hagen er solist.
Ballett som tar sjanser, tøyer og balanserer helt i yttergrensen av hva kroppen kan få til
Svenska Dagbladet (2008)
En eksplosjon av dans
Publikum får også oppleve Hun var svart, beskrevet som «en formmessig eksplosjon av bevegelser og følelser».
– Jag drömde om Gud inatt.
– Hur såg han ut?
– Hon var svart!
Denne replikkvekslingen fra en svensk revy er utgangspunktet for balletten, som viser noen av de komiske, nære og spente situasjonene som kan oppstå i spennvidden mellom det sosiale og det private.
Rått og poetisk
Vi møter også en skapning som kravler omkring og snubles på, men aldri ses – før Hun på slutten brer ut sine vinger og viser potensialet i det usette.
Musikken er «mørk, energisk, rå og poetisk», ifølge Ek, som i Hun var svart tonesetter Henryk Góreckís stykke«Quasi una fantasia» for fire strykere.
Solister, stjerneskudd og Operaorkestret
Ana Laguna – en av vår tids største dansekunstnere – er selv i Oslo for å iscenesette forestillingen sammen med Ek.
Vi lover et unikt møte med en av verdens største nålevende koreografer – og en kveld der Nasjonalballetten endelig gjenforenes med Operaorkestret!
Kunstnerisk team og medvirkende
...OG BRAHMS
Koreografi
Mats Ek
Musikk
Johannes Brahms
Scenografi og kostymedesign
Mylla Ek
Lysdesign
Erik Berglund
Iscenesettelse
Mats Ek
Innstudering
Ana Laguna, Eva Säfström
HUN VAR SVART
Koreografi
Mats Ek
Musikk
Henryk Górecki
Scenografi og kostymedesign
Peder Freiij
Orginalt lysdesign
Ellen Ruge
Iscenesettelse
Mats Ek
Innstudering
Allyson Way
...OG BRAHMS

HUN VAR SVART

Mamma

Pappa

Ett ungt par

2 Unge menn

Tåspissmannen

Den Svarte

2 kvinner

Mann
MEDVIRKENDE: ...OG BRAHMS